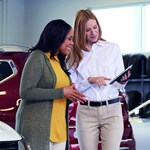 Picking out a new vehicle should be an exciting experience. If you want to take the stress out of your next investment, think about selecting a used model from Volvo Cars West Springfield's inventory. You'll save a bunch of money, but you'll also have a very vast selection to choose from.
You want to ensure that the used vehicle you're buying is reliable. In order to ensure dependability, ask if the vehicle has been inspected recently. You can also inquire about a vehicle history report that will provide you with a comprehensive history for the vehicle in question. Make sure that you understand your budget before you start shopping. Don't allow yourself to purchase something that you can't comfortably afford simply because it comes with some great features or technology.
Never purchase a vehicle that you haven't taken out for a test drive. You should confirm that you like driving something before it becomes yours.