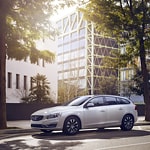 The V60 Inscription is not your parent's station wagon. It is a sleek, modern, midsize sports wagon. Chrome trim accented by alloy wheels and dynamic tailpipes allows it to stand out from the crowd on the road easily. Add in soft leather trim and a distinctive dashboard, and the ride is just as exquisite from the inside as it is from the outside.
As mentioned, the chrome details of the V60 Inscription are the first thing that catches your eye as you watch the vehicle glide by. The exterior features chrome trim that lines the front grille bars, side windows, and lower outer grills is further accented by the Volvo trademarked red barred tail lights. Inside the V60 makes driving a luxury experience with soft leather seating, LED headlights, a panoramic moonlight, and a power-operated tailgate. The dashboard is also equipped with Harman/Kardon audio and Sensus Navigation.
Come down to Volvo Cars West Springfield in West Springfield to see for yourself why the V60 is one of the sleekest vehicles.